Posted on August 22, 2018

Did you know DJI is releasing a brand new Mavic 2 drone this week?
I have to be honest, I am pretty dang excited.
The new Mavic 2 is expected to be offered in 2 or 3 configurations tomorrow for DJI's "See the Bigger Picture" event in New York.
The event starts tomorrow, Thursday, August 23 at 10am EDT. A direct link for DJI's live stream of the event is right here.
DJI Mavic 2 Leaks & Photos

(the prices listed above are likely for placeholder & not accurate)
Below is a quick round-up of the latest Mavic 2 specs & photos thanks to two UK electronic retailers who accidentally leaked the images and info:
31 minutes of flight time
Fly up to 45 miles per hour
Have 5 miles of range
Whisper 'quiet' blades
Extra sensors for "omnidirectional obstacle avoidance"


---

 
1) New Mavic 2 Zoom with 2X optical zoom lens

The Mavic 2 Zoom is said to have a 24mm to 48mm zoom lens. Having a zoom lens will open up all kinds of new opportunities.
Heck, check out their Hitchcock inspired dolly zoom effect in this teaser DJI posted to Facebook:
Inspired by Hitchcock's classic dolly zoom effect:
---
2) New Mavic Pro 2 with Hasselblad camera
The Mavic Pro 2 with Hasselblad camera is said to have a 1″ inch Hasselblad CMOS sensor (yes please!).
This would be a nice bump up over the current 1/2.3-inch sensor found on the current Mavic Pro.
---
3) New Mavic 2 Enterprise Edition
The Mavic 2 Enterprise Edition version looks like it might be for adding accessories? It's not clear though if this one will be released tomorrow so take this info with a grain of salt.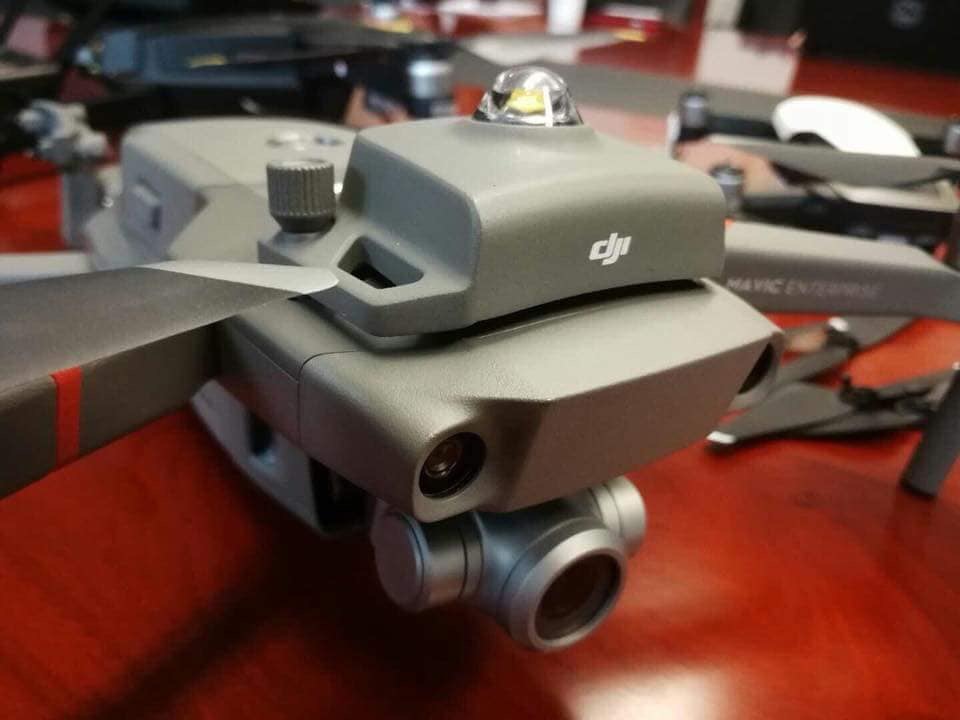 Some of the guesses for what the accessories could be are: a bright LED light beacon, a speaker, a 360 camera, a special camera for 3D scanning, or it could just be a prototype throwing everyone off 😉
Below is what appears to be the underbelly of the DJI Mavic 2 drone:
---
DJI Quiz + Free Priority Shipping Coupon

Finally, DJI just launched a five-question online quiz and they are offering prizes to those who answer the questions correctly. The main prizes are a DJI Select Membership (valued at $29) and $20 worth of DJI Credit.
The best part though is they'll give you one Priority Shipping Coupon just for taking the quiz which will give you early access to DJI's new products like the DJI Mavic 2 that is expected to be released tomorrow.
---
In closing…
Alright well that's it, if you got a quick moment, leave a comment down below and let me know what new Mavic 2 drone you are most excited about.
I'll be keeping my eye on the live stream and will shoot my drone email newsletter subscribers an email right after the announcement with my personal thoughts on the new lineup as well as which Mavic 2 drone I end up ordering. So sign up for my drone newsletter and stay tuned for that!
Don't forget to set a reminder for the "See the Bigger Picture" event tomorrow, Thursday, August 23 at 10am EDT.  To bookmark the link to the live stream click here.
---
Let's connect!
Also if you'd like to help this website grow, I would be grateful if you considered using my DJI, Amazon, or Adorama links whenever you do any online shopping. I will make a small commission at no extra cost to you. Thanks so much in advance for your support in this way!
---
ABOUT AUTHOR

Dirk Dallas, also known online as @dirka, is the founder and curator of From Where I Drone, a blog dedicated to inspiring and teaching drone pilots how to create better aerial photos and videos.
---
Related


http://fromwhereidrone.com/dji-mavic-2-pro-zoom-drone-leak-rumors-specs/